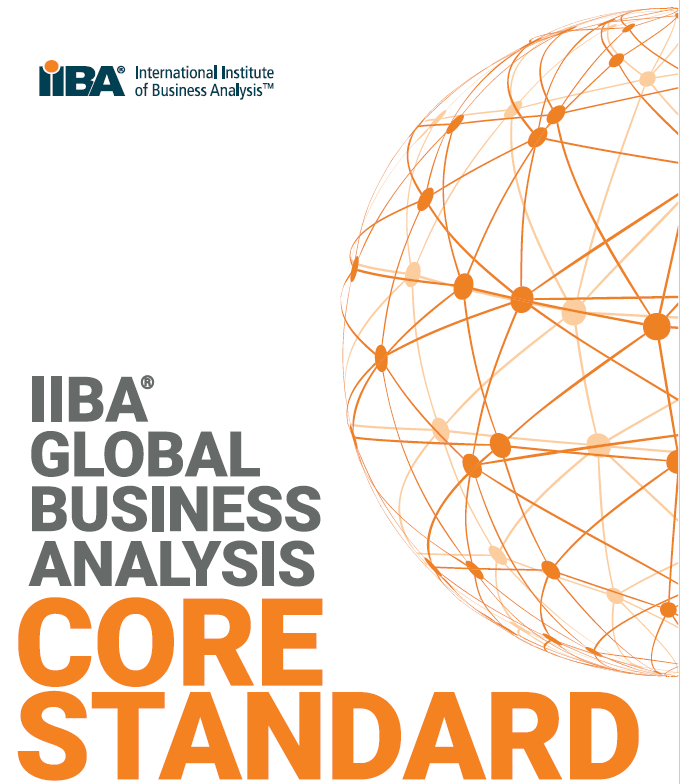 Wer ein Standard-Werk zur Business-Analyse sucht, landet beim "Business Analysis Body of Knowledge" (BABOK). Dieser bietet einen großen Einblick in die Themen rund um Anforderungen.
Was jedoch, wenn man nicht die Zeit hat, fast 600 Seiten zu lesen?
Die Antwort liefert das International Institute of Business Analysis (IIBA) als Herausgeber des BABOK nun selbst: Mit dem "Global Business Analysis Core Standard"  gibt es eine 50-seitige Zusammenfassung des BABOK.
Der Global Business Analysis Core Standard beinhaltet folgende Abschnitte:
Die Business Analysis Key Concepts beschäftigen sich mit grundlegenden Fragen der Business-Analyse: Was ist Business-Analyse und wer ist eigentlich ein Business-Analyst?
Die beiden Erklärungen dazu sind direkt aus dem BABOK übernommen:
"Business analysis is the practice of enabling change in an enterprise by defining needs and recommending solutions that deliver value to stakeholders." 
".A business analyst is any person who performs business analysis tasks described in the BABOK® Guide, no matter their job title or organizational role."
Ich finde beide Aussagen hilfreich. Denn nicht alle in der Business-Analyse tätigen Mitarbeiter haben auch die entsprechende Bezeichnung oder Stellenbeschreibung. Einige Tätigkeiten haben jedoch alle gemeinsam: Das Sammeln und Analysieren von Informationen sowie die Ermittlung von Anforderungen des Unternehmens und seiner Stakeholder.
Des Weiteren erläutert der Core Standard das Core Concept Model. Dieses besteht aus den sechs Aspekten change, context, need, solution, value, stakeholder. Sie bilden wesentliche Bestandteile jeder Business-Analyse.
Es folgt eine Beschreibung weiterer wichtiger Begriffe der Business-Analyse. Besonderen Wert legt der Global Business Analysis Core Standard dabei auf Stakeholder, Requirements und Design.
Der umfangreichste Abschnitt des Global Business Analysis Core Standard beschäftigt sich mit den sechs Wissensgebieten des BABOK: Business Analysis Planning and Monitoring, Elicitation and Collaboration, Requirements Life Cycle Management, Strategy Analysis, Requirements Analysis and Design sowie Solution Evaluation.
Die Erklärungen sind dabei immer gleich aufgebaut: Eine kurze Einleitung gibt einen Überblick zum jeweiligen Wissensgebiet (Knowledge Area). Es folgt ein Schaubild. Dieses zeigt Inputs, um die Aufgaben des Wissensgebiets durchzuführen, die erforderlichen Aufgaben selbst und deren Outputs. Anschließend werden die Aufgaben (Tasks) jeweils kurz textlich erläutert.
Folgt man diesen Core Standards, ergibt sich einen Überblick über verschiedene Tätigkeiten eines Business-Analysten, beginnend bei der Planung seiner Aufgaben bis zur Einführung und Evaluation einer (IT-)Lösung.
Den Global Business Analysis Core Standard erhalten Sie gratis als Download unter: IIBA.org
Weitere Informationen zu den Inhalten des "Business Analysis Body of Knowledge" (BABOK) finden Sie in folgendem Beitrag.