Für die aktuelle PMI-Trendstudie  "Pulse of the Profession: Capturing the value of Project Management Through Organizational Agility" vom September 2015 befragte das PMI-Institut weltweit rund 1.400 Projektmanager und kam zu interessanten Ergebnissen.
Werden in der Projektarbeit agile Methoden eingesetzt, so lassen sich damit bessere Projektergebnisse erzielen, als wenn nur auf klassische Methoden gesetzt wird. Teams, die die wichtigen agilen Werte Zusammenarbeit, Kommunikation und Flexibilität erfolgreich in ihre Projektarbeit einbringen, erreichen zu 81% die vorgegebenen Projektziele. Bei Teams, die das nicht tun liegt dieser Wert  – laut Studie – nur bei 53% (siehe Grafik).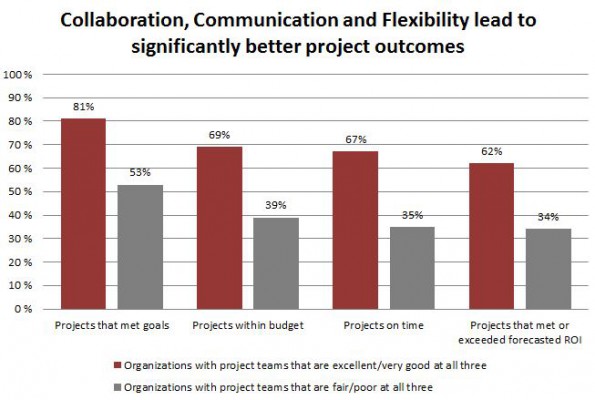 Die Studie kommt zu der Schlussfolgerung:
"To become agile, organizations will need to make changes in how they work by establishing a framework around strategy, culture, leadership, people and process."
Link und kostenloser Download zur Studie
Weitere interessante Informationen rund um das Thema Projektmanagement haben wir auf unserer Homepage für Sie zusammengefasst.